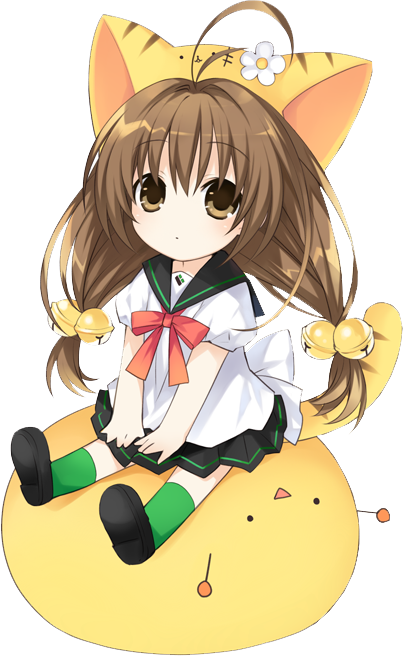 Name:
Broccoli
Alias:
puchiko.
Age:
14 years old
Sexuality:
no sexuality.
Race:
Human
Kingdom:
Hyrule
Personality:
Broccoli is a very mature, wise and calm young girl that is overall known as the wises kid you will ever met. she is very smart and has a small attitude around people that act like they are mightier then everyone else and that they should be given more praise and admiration then other people, which makes her want to fight the person that is doing that and prove them wrong. Broccoli is a proud young girl and acts very calmly in the face of danger and never shows fear even when her fears is right up in her face, she just sighs it away and walks away without so much as a little sign of fear. Broccoli acts very harsh around people that don't do the right thing and can be a bit pushy around other people, though once you get to know Broccoli, she is very sweet and is known to protect her friends from anything that may harm them. Broccoli is not known to be a cowered and is more known to be very brave and show no fear to anything that faces her, but inside, Broccoli is very afraid of her fears and just fakes being brave around those things.
Likes:


reading: gaining more knowledge is fun and it helps Broccoli learn more about the world, which she likes.

fairies: they are very helpful beings that bestow power and recover injuries that a person has been inflicted. Broccoli wants to learn how they work and potentially have a fairy to learn things from.

horses: they are majestic beings of nature that show true beauty and elegance when riding it. Broccoli wants to have a horse to take care of and nurture to become a great and majestic grown up horse.

Dislikes:


water: it makes her wet, messy and Broccoli is only barely able to swim in water at all. she dislikes water getting on her but doesn't mind baths for some reason.

having her tail pulled: Broccoli has a tail and hates it being pulled by anything and everything that isn't a friend. it hurts Broccoli whenever people pull her tail.

masks: while Broccoli doesn't mind some masks, only a few masks really make Broccoli mad. the masks that make her mad are the majora's mask, the deku mask, goron mask and the Zora mask, as they are very creepy and make Broccoli's skin crawl imagining how they were made.

Motivations:


meeting a princess: Broccoli travels the world to meet a princess, and to record her life for all the generations of the world to know about the princess that she met.

to record the history of the world: Broccoli also travels the world to record the history of the world as it currently is and keep recording all of what happens in the world so then time doesn't forget about it, and so the generations of people that come after her will know about the world she lived in and what happened in their past.

Fears:


floor masters: Floor masters are very terrifying to broccoli as they appear out of nowhere, snatch you by the head and drag you down it's weird blackness under it, teleporting you back to the room before it just to repeat the cycle over and over again. it terrifies Broccoli how they appear and how they work.

undeads: the zombie-like corpses that move around in the night, screaming out that petrifying scream, it makes Broccoli turn white and scream inside as to how terrifying these things are.

Height:
3 Feet 10 inches
Weight:
64 pounds.
Eye color:
light brown
Hair color:
light brown.
Special features:
Broccoli has cat ears, a cat tail and says "nyu" after ever few sentences.
Appearance:
picture at top.
History:
Born into this world in the town of Hyrule, Broccoli was seen as a outcast because of her appearance being different from everyone else, with her cat tail and ears being the most noticeable feature and her pattern of speech being another feature discovered once Broccoli got to the age of which she was able to talk. Growing up wasn't hard for Broccoli as she had matured surprisingly quick and was envied by all the other children because of her mature nature and the way she didn't make any fuse when she got told to do something. Broccoli's childhood was all fun and games for most kids but to her, it was nothing more then a phase that she needed to get done so then she could go do what she wanted to do ever since she was only a three years old, go out and record all of the time she could for all the future generation to read and learn from if they ever needed to learn about the past. to this day, Broccoli travels all around the world to record the important events happening in the world, so then all of generations could learn from what Broccoli had recorded in her time of being alive.
RP Sample:
day after day, night after night, nothing was changing, nothing had appeared that was worth recording for the future generation that would even make it seem like the past was worth learning about. the day was nothing more then a regular, no good, boring day where Broccoli just looked around for anything interesting but nothing ever popped up for her, just a normal day where everyone was safe. Broccoli recorded the day but put it as it was a normal day and nothing had actually happened, just a regular peaceful day. Broccoli would head home, have her dinner and take a bath and just head to bed after drying herself off from the bath. the night was more interesting then the morning, it would seem, as the moon turned from it's usual white to a red, a blood moon, which caused Broccoli not to sleep that night, she was recording the night of the blood moon happening and how the peaceful nights changed to ones that were to be feared, as the monsters outside the safety of the city were getting wild, almost like the blood moon was intensifying their power to a point that they were almost unstoppable, yet the magic protecting the city was strong enough to keep them back for the time being, which was nice. it made for a really good part of the record of time Broccoli was making for the future generations to know about.
the night proved longer then what Broccoli had gotten used to, as it seemed to drag on forever, until the day arrived what seemed to be a few hours later then normal. Broccoli had gotten no sleep that night as she got too excited about recording the night and it's mysterious affects on the monsters that spawned outside the city at night while the guards for the night shift were on and fighting against them, and how it looked as if the guards where having a hard time. all of it was vital to making the records of time more interesting and have vital information for people that may encounter monsters in a blood moon. "all recorded, Nyu... time... for sleep... Nyu.." Broccoli would say before resting her tired little head on her pillow and rest for the entire day, which was the same as the day before, uneventful and boring so Broccoli, after learning about the day being like that, was glad to have missed a day out.
Reference:
find this site on my own.
Face claim:
Broccoli- Hyperdimensional Neptunia.
[/list]
Human





Rupees

: 12000

---

Posts

: 13


Join date

: 2016-03-02


Age

: 20

---


Character Sheet


Rank

:

Amateur




EXP

:


(0/5000)




Statistics

:


Accepted!
(Though, their may be things I need Zelda to look at later.)
___________________________________________________
Human





Rupees

: 339614

---

Posts

: 201


Join date

: 2015-02-17

Character Sheet


Rank

:

Advanced




EXP

:


(350/15000)




Statistics

:


Accepted!~ Welcome to the site, m'dear :3
Human





Rupees

: 768253

---

Posts

: 12


Join date

: 2015-03-15

Character Sheet


Rank

:

Advanced




EXP

:


(0/15000)




Statistics

:


---
Permissions in this forum:
You
cannot
reply to topics in this forum