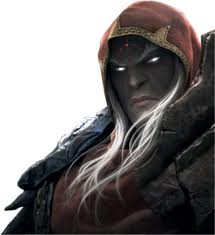 Name:
Ratatosk Vorlent
Alias:
The Conqueror
Age:
30
Sexuality:
Dominant
Race:
Human
Kingdom:
None
Personality:
There are two things about Ratatosk that stand out above all else.
The first is his good and kind heart. He in no way holds himself above helping those weaker then he is and has been known to fetch cats out of trees, carry heavy things for old ladies and shake rattles for babies. He will also not tolerate injustice and has been known to hunt down criminals when it was beyond the ability of the guards. He has even been known to comfort the distraught, offering a shoulder to cry on or even a kind word.
On the other he is one of the greatest warriors of the modern age, with the personality to match. He thrives in battle finding joy in the challenge of facing great enemies with blade in hand. While like anyone else he does fear death he has long since come to terms with the fact his last breath could be on the battlefield. This unwavering approach conflict has carried over to how he approaches other issues, when simply addressing another person he will be direct and to the point. Time spent dancing around on the battlefield will just get you killed, and he feels the same about conversation. 
Likes:
- Fighting
- Drinking
- Wenching
- Birds
- Women
- Small chested women
Dislikes:
- Nags
- Cowards
- Weak Opponents
- Large chested women
- Following others orders
Motivations:
Become Emperor - Ratatosk's long term goal is the complete and absolute subjugation of everything he surveys. The Kingdoms of Hyrule, Holodrum and Labrynna are no exceptions. One way or another, he will see himself ruling above even the Kings and Queens of all the lands. And through that a lasting peace.
Destroy the Triforce - Having heard the rumours Ratatosk has come to the conclusion that the Triforce is a corrupting influence. Even he feels the desire to use, and abuse, it's great power. Removing that temptation would do much to slow the corruption of people's hearts.
Become Functionally Immortal - The only thing better then being an Emperor is being an Immortal Emperor. This would also ensure he could maintain peace in his realm.
Fears:
Never Having a Family - A strange fear for someone most would assume would just take what he wanted, and yet it is. To not produce children with a willing partner is one of his greatest fears.
Becoming a Tyrant - Another odd fear for a would be Conqueror. He knows of the Warlords who have gone on to be come tyrants that torment the people who live in their lands and wishes to never become one of them.
Height:
8 Feet, 10 Inches
Weight:
300 pounds
Eye color:
White
Hair color:
White
Special features:
Sheer size. Tattoo on his right hand in the shape of the insignia of Din.
Appearance:
Picture:
History:
War. Pretty much everything Ratatosk has ever known has been shaped by it. His most ancient ancestors where all warriors who reclaimed monster infested lands for use by his people. His more recent ancestors where the great warriors and generals of the kings who ruled their lands and more recent still ancestors formed the ranks of the warlords who toppled those kings.
His grandfather was an architect who built siege engines, his father and mother blacksmiths. Both of these sources passed on all they knew, everything from mathematics to how to judge a forge's heat at a glance. His uncle taught him how to swing a sword while his cousins where his first sparing partners.
He made his first kill, a boar, at the tender age of four. He was then taught how to skin and cook it.
Before his fourteenth birthday his peaceful, if bloody, life in his hometown ended. He was the first to see the riders coming but never got the chance to warn the village as he was clubbed in the head and fell down a ravine. Once he came to he found his home in burning ruins. He searched desperately for anyone and even managed a headcount, all accounted for. Eventually he found his mother, breathing her last breath. She gave her dying words to tell him that she loved him.
Seething with rage Ratatosk embarked on a quest… and thirteen years later departed the borders of his homelands. Behind him what had once been a fertile land with dozens of warring warlords was barren chaos. None of the warlords or their armies survived, leaving only the scattered villages.
He hadn't simply charged the nearest warlord though. He had played them against each other, rising through the ranks of his own family's killer. Making him kill off his rivals until he became his right hand… then decapitated the man in front of his entire court.
Many challenged Ratatosk but he bested them all and either forced them to serve him or die.
In the end they all died. He made them all pay.
Along the way he met two that help him on his quest that he couldn't and had no reason to kill. The first was Laela, the ghost of a fairy from the distant past that had been wandering the world but felt compelled to follow Ratatosk. The other was Druge, the ghost of a Darknut warrior who retrained Ratatosk once his massive form began to hinder his original sword style.
The people saw him as just another bloody murderer. So he left.
It was by chance he stumbled across Hyrule and it's neighbors. He had departed the mainland on a vessel that intended to circumnavigate the globe. Along that trek a storm happened across the vessel which in turn blew it into the Sea of Storms and smashed the ship to pieces. The fact Ratatosk was able to pull himself to shore, with his sword still on his back, was taken by the giant of a man to be a sign from the gods. A sign that he was to become the ruler of these lands.
...And so another war came to Hyrule. 
RP Sample:
"Where are you leading me, Dog?" Growled the deep voice of Ratatosk as he found himself slinking uncomfortably through a cave. His massive form was more of a hindrance then anything else in such confines with the giant of a man often needing to squeeze himself between rocks or crawl under ceilings a smaller man could simply duck under.
To say such efforts where wearing on his patience would have been an understatement.
"Calm yourself." An elegant and prideful voice replied. A dog headed humanoid shade materialized and crossed it's arms in front of the would be Conqueror, "The chamber opens up just a bit ahead."
"Still..." A feminine voice, belonging to the transparent form of a long dead fairy, "We still have no idea why you lead us down here Druge?"
The Darknut said nothing as their living companion pulled himself into the large open chamber. All the man gave was a grunt before pulling a torch from under his cloak and lighting it, bathing the area in a warm glow. He looked to Druge with a sour expression and gestured for the long dead warrior to lead the way.
Across the chamber the ghost warrior gestured to a desiccated corpse of a Darknut. "This is my final resting place." The dead warrior explained, "In our culture it is our way to train our pups until we can no longer lift a sword ourselves. Once that day comes we pass our blade on to our chosen heir." He chuckled, "It's largely ceremonial as the pups likely have their own blades and pups of their own by that time… but… it is tradition. And I never had pups of my own."
The ghost looked the living human in the eye, "You are the closest I have had to a pup, my friend." He gestured to the massive, untarnished blade resting next to the corpse, "So I leave my sword to you. May it serve you as well as it did me."
"So..." Laela hummed, "How did you die?"
Druge simply pointed. Ratatosk adjusted his hold on his torch and cast it's light where Druge pointed revealing a dozen goron corpses. The dead warrior shrugged, "They shredded my armour and a bomb fragment pierced my heart. I finished them off before dying of blood loss." He explained with pride.
Without another word Ratatosk hefted his dead companion's weapon and tested the balance before nodding, "This will do." Casually he set it to rest against his back where passive enchantments on his clothes and the weapon bound them together.
Druge smiled as his form became surrounded in light, "Thank you my friend. It would seem I have finally set myself at ease." He looked at his living companion one last time, "Now I depart for the great beyond… Take your time catching up, I can wait."
And with that, Druge the Darknut was gone.
After several long moments Ratatosk spoke, "Come Laela." He glanced at Druge's corpse one last time, "We are done here."
Reference:
Seith
Face claim:
War - Darksiders
Last edited by Ratatosk on Mon Feb 22, 2016 11:09 pm; edited 1 time in total
Human





Rupees

: 12003

---

Posts

: 16


Join date

: 2016-02-22

Character Sheet


Rank

:

Amateur




EXP

:


(0/5000)




Statistics

:


___________________________________________________
Human





Rupees

: 339614

---

Posts

: 201


Join date

: 2015-02-17

Character Sheet


Rank

:

Advanced




EXP

:


(350/15000)




Statistics

:


___________________________________________________
Human





Rupees

: 339614

---

Posts

: 201


Join date

: 2015-02-17

Character Sheet


Rank

:

Advanced




EXP

:


(350/15000)




Statistics

:


I'm really sorry about the inconvenience! There's just a little bit of a problem with your character's backstory.
In your history, you wrote as follows.
It was by chance he stumbled across Hyrule and it's neighbors. It was not by chance that he decided that the only way to grant the people true peace was unify it under his banner.

...And so another war came to Hyrule.
If you look at the
map of the world
, you'll notice that the world is an Island, surrounded by deadly seas that no one can pass through, on or off of the island. You wrote in that your character
happened
across Hyrule, however that'd be nearly impossible since Labrynna, Holodrum, and Hyrule are the territories of this island.
I know that this creates a bit of a pickle for your character's history and what not, and it is possible to make characters from outside of the island, however it cannot be overlooked that your character simply arrived to Hyrule since the seas are too treacherous to simply sail across. Not even the zoras who breathe underwater are able to survive traveling across the water.
I highly suggest you look over your application to come up with a new idea for how your character had wound up in Hyrule. It is possible that your character grew up in the mountains far away from most of the main cities, where the kingdoms cannot exactly keep an eye on things, or even know that the villages exist if they are far enough away.
Human





Rupees

: 877020

---

Posts

: 265


Join date

: 2015-02-13


Age

: 23

---


Character Sheet


Rank

:

Advanced




EXP

:


(445/15000)




Statistics

:


Human





Rupees

: 877020

---

Posts

: 265


Join date

: 2015-02-13


Age

: 23

---


Character Sheet


Rank

:

Advanced




EXP

:


(445/15000)




Statistics

:


---
Permissions in this forum:
You
cannot
reply to topics in this forum