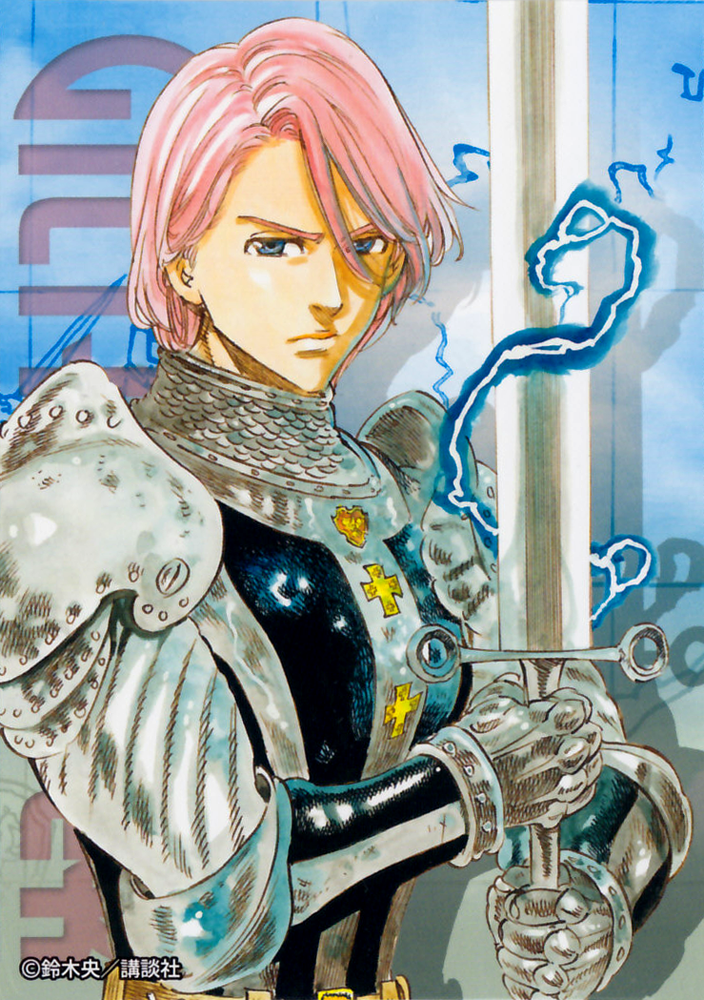 "Weaklings don't choose where they die!"
Name:
Axel Rover
Alias:
Rover
Age:
25
Class:
Knight
Sexuality:
Bisexual
Race:
Human
Special features:
None
Personality:
Axel is not overly righteous nor is he overly immoral, but instead he is in-between those lines. He can be very friendly to people which includes having nice conversations with them, helping them do certain things, and generally just being there when they need him, if he chooses to. However, depending on who he is talking to, Axel can get a bit aggressive and unfair. In order for this to occur, he would have to be talking to any person that stands in his way of any goal he wants to achieve at that time, and the associates of these people, as well as those who's attitudes he doesn't appreciate, such as annoying people, people who try to force ideas on others, know-it-alls, and many others. Axel 'being aggressive' includes mocking the person, trying to show them that he is better than them in any way, name-calling, embarrassing them, and maybe even physical assault of they are that bad. As you can see, Axel can get mad fairly quickly, and if you push him he could get up in your face. He can also get sad however, if he fails a goal he is chasing, or fails at trying to make a fool of a person, instead making a fool of himself. When he is sad, he gets depressed, not wanting to talk to anyone or take on any goals, and can stay this way for several hours, or even a day or two.
Axel also is very prideful when it comes to his family or his fighting abilities, and anyone who trashes on them will be inflicted physical pain. He doesn't care who you are, what you are, or how old you are either. If you anger him by messing with his pride or being what he doesn't like, he will mess with you. Something Axel also believes in is that everyone has a chance to train and get strong, so if you are about his age or older and do not even know how to fight basically, he does not consider you a friend and will only help you in exchange for something valuable, since he is a mercenary. Of course, there are exceptions to this rule, like if you are a very nice person who has nothing.
Of course, once Axel is in mercenary mode, his personality is whatever the task wants him to be, though, he would only go far if he was given enough money. He doesn't mind kill contracts as long as the target has arms, legs and can move them, because that means they would have been able to learn how to fight, and if they didn't, well that is their fault. He would stop his assault if the target gives more money than the one paying him for the kill however, and would go to attack his employer, or anything that his new employer would have him do instead, for instance a new kill contract that isn't his old employer. He never accepts contracts to kill his friends or family, or anyone that would obviously make it seem obvious so that the soldiers would have enough proof to hunt after him.
In battle, Axel is very patient and realizes that most battles will take a while, especially if it is against more enemies than the number of people in your group, or large and very strong beasts. In these large and long battles, he likes to strategize as he goes, thinking up plans that only require whatever is in his grasp. His favorite weapon is not his sword, but the environment due to how much more damage it can possibly due, if used right, such as pushing large boulders off of a cliff to take out the enemies on ground level. When fighting in a group, Axel likes to strategize with them, since a group fighting out of sync isn't a group at all in his opinion. The only way he would accept a group that doesn't fight together is if the enemies are weak enough to where you would only need one or two people.
Likes:
- Fighting: Axel loves to fight and would jump at any chance to do so, whether it be fighting an enemy or a spar with an ally.
- Strong-Willed People: Anyone who has the will to fight on is a friend to Axel.
- Adventures: Axel likes to go on adventures because of the surprise of what you may find. His favorite encounters are with monsters so that he can prove is strength.
Dislikes:
- Weak People: Axel doesn't respect anyone who hasn't learned to at least fight basically by the time they were a young adult.
- Thieves: In Axel's opinion, you only deserve what you worked for, so he doesn't take a liking to thieves, and will do his best to make sure they can never steal again.
- Kings: Axel has no problem with leaders who lead small groups, but any men who lead a whole kingdom are out of there mind in his opinion. While people are out dying for what they believe in, or just dying for nothing, the great king is inside thinking that his words will be all he has to do. If it was up to Axel, he would make kings fight on the front lines of every battle their army partakes in, showing no fears.
Motivations:
- Unlocking his combat ability: Ever since a wizard locked all of Axel's combat abilities deep inside of his brain, he has been training for hours straight so that he could regain them and becomw one of the strongest men of Hyrule again.
- Creating a Guild: Axel strives to get rupees so he can fulfill his dream of being the leader of a small group of mercenaries and sharing grand adventures with them.
Fears:
-  Never regaining his power: Axel fears most of all that he might never get his past combat capabilities back, and will have to start all over again, wasting another 10 years on tireless training instead of getting known and getting a happy ending.
- Prison: Though he gets involves with some dangerous activity, Axel doesn't know how he would cope if he got sent to prison. He has been once for a couple of weeks, and the confinement and sheer boredom is nothing to laugh at.
Height:
6 feet 1 inch
Weight:
192 lbs
Eye color:
Blue
Hair color:
Pink
Appearance:
Spoiler:
History:
Axel Rover was born in Kakariko Town, where his family lived. There was Alex his father, Sylvia his mother and now him who lived in their small home that was in the middle of the town along with a few others. a few weeks before Axel's birth, his parents moved to Kakariko Town as teachers for young children, turning the house they moved in into a daycare. Because of this, Axel grew up with many friends since he got into the daycare every day, and would play multiple games with them. He did not discriminate either, whether you were male, female, or a race different than human. He only disliked children who bore a an aspect to their personality that the young boy could not stand, and he would get aggressive at times, his parents barely able to contain his rage, but he got better within the years. further playing with his daycare friends and traveling around the town to study the adults intensified Axel's belief to not judge based on whether a person is good or evil, but rather how he feels himself. Some may have seen his life ideas as selfish, but he didn't believe that anyone needed him for anything major enough for his views to actually affect the task.
Once he was 13, Axel began training with his father, who may have been a teacher at that time, but before that he was a hylian soldier, a person who would give their life for the royal family. During his training sessions, Alex would tell Axel about how the kingdom of Hyrule worked, but what Alex did not know was that instead of building his son up to be a great Hylian soldier, he was doing the exact opposite. His view was that the king should not just sit on his ass and give orders that could possibly risk the lives of soldiers, but instead be out there on the front lines with them. This caused the boy's dislike for those who did nothing to strengthen themselves while wanting others to do all of the tough work for them. It was because of this that once Axel was 19, he left Kakariko Town and became a mercenary who would work only for prices high enough that would allow him to shelter himself inside of an inn every night. Sometimes, instead of going into an inn however, he would be training all night, bettering his skills so that he may adventure the lands and see new things, as well as potentially find people foolish enough to give him a vast amount of rupees for one job.
Once he was 25, Axel had learned most that he could about combat, and would have to train for years and years to truly become a legend, but he made the fatal mistake of angering a wizard, who in-turn sealed his combat abilities deep within his mind, telling him that if he wanted them back, he would have to unlock them himself. Giving no explanation as to how he had to unlock his combat potential, the wizard disappeared. angry at himself and the wizard for this outcome, Axel trained harder and harder than he every did several hours a day in hopes of being able to to regain his combat potential.
RP Sample:
Spoiler:

His world was silent and peaceful. No one can touch him, for he was invincible, and he had the right to, for all that training he put himself through in the past 3 weeks since his combat abilities got locked deep inside his brain. If it was only a rest for just a few minutes, floating into this dream of nothingness, well, then he would take it. The man even guessed that he would open his eyes and find himself rejuvenated to the fullest, ready to train, or even take a contract, though it had to be a small one since he was as strong as he was in his first years of training with his father Alex. Just as his dream world was creating something pleasurable, he was rudely awakened by the sound of clashing just a few dozen meters in front of the tree he was leaning on. The area he was in was a grassy plain somewhere in Hyrule. Where exactly, he did not know since he was just a wanderer. Anyway, when he opened his eyes, he saw two hylian knights fighting against a man who really seemed like he was about to get killed. The three of them fought with a sword and shield, and the knights went back to back trying to get this man to push himself into a tree with no way of escape.

"Ugh, why now," Axel said under his breath. He got up and began walking towards the three people fighting. Once he was just a few meters away from the three as they were jumping around and blocking sword strikes. He began to talk.

"Hey, you three, fighting! I will help whoever can pay me the most money!" Axel shouted, getting their attention. They all stopped fighting and looked at the man who seemed like he could put up a fight.

"I will give you 2,000 rupees, so help us kill this filthy old man who dared to defy our orders!" shouted one of the hylian soldiers. Axel looked at the man they were fighting, and it did seem as if he was maybe in his late 50s or early 60s.

"I...I will pay you 6,000 rupees!" shouted the old man.

"8,000!" replied the other soldier.

"15....15,000 rupees!!" shouted the old man back, sounding as if this was his final offfer. The knights just stood there speechless, as if they could not beat such a high price with the current cash on them. Axel nodded his head and quickly got out his sword and shield. His sword was in his right hand with his shield in his left, and he charged after his targets. One knight fought him while the other kept his assault focus on the old man. Horizontally, diagonally and even vertically the swords went as the fighters ran around each other, trying to find a spot of opening but all they could hit were their enemy's shield. Finally, while his sword clashed with the soldier's shield, Axel was able to trip his target, then while he was on the ground, Axel found an opening on his chest and stabbed, tearing right through his ribcage and heart, killing him. He quickly pulled the sword out, and together with the old man, was able to kill the other soldier. The old man was now taking a seat on the grass, but Axel decided to point his sword at his head.

"Ok, now you pay me," Axel ordered. The man was seating.

"Um, I do not have the rupees on me now, but I assure you that....." the man replied, yet he was not able to finish his sentence since his head was separated from his body, courtesy of the blade Axel swung at his neck.

"Lying bastards. I hate them," Axel mumbled as he sheathed his sword and began to walk away.
Reference:
An advertisement on a site I RP on.
Face claim:
Axel Rover/Nanatsu no Taizai/Gilthunder
Human





Rupees

: 34005

---

Posts

: 246


Join date

: 2015-02-17


Age

: 21

---

Location

: California

Character Sheet


Rank

:

Amateur




EXP

:


(350/5000)




Statistics

:


Looks awesomeness! Accepted and Moved!
___________________________________________________
Human





Rupees

: 339614

---

Posts

: 201


Join date

: 2015-02-17

Character Sheet


Rank

:

Advanced




EXP

:


(350/15000)




Statistics

:


Moved by me to delete this character's existence and replace him with a new one. I may want to keep the name and image though.
___________________________________________________
Vault
Human





Rupees

: 34005

---

Posts

: 246


Join date

: 2015-02-17


Age

: 21

---

Location

: California

Character Sheet


Rank

:

Amateur




EXP

:


(350/5000)




Statistics

:


Similar topics
---
Permissions in this forum:
You
cannot
reply to topics in this forum