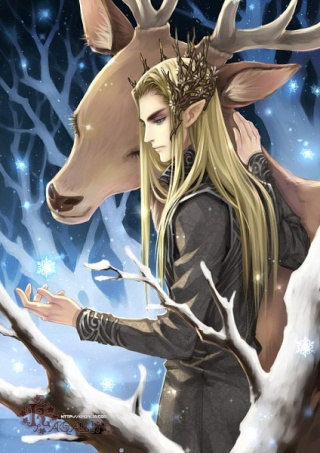 Name:
Willing to let the player name him, though for right now his name is Galadhion.
Alias:
King of the Western Realm
Age:
 Anywhere between 40-50
Class:
Up to the player. I figure he'd either be a ranger or swordsman.
Sexuality:
Up to the player. He is widowed to a woman though.
Race:
Human
Kingdom:
Labrynna
Special features:
up to player
Personality:
Up to the player, however, he can be very secretive to his people and is especially demanding/protective of Perseus. Some people even question if he actually cares about Percy or not, or if he is just trying to gain control over Hyrule by having him marry Zelda. He claims to be best friends with the King who had just died yet didn't show up to his funeral. Lately he has been making some shady business trades with whomever you choose. It's up to you on whether or not he's secretly working against Hyrule or against Ganondorf, but the main idea is that everything thinks he's being too shady.
Likes:
up to player
Dislikes:
up to player
Motivations:
up to player
Fears:
up to player.
History:
You can pretty much decide what his life was like growing up, but as far as being king goes, he married his wife, and she died while having Perseus. Perseus was supposed to die, too, but he then set Percy into a pool of sacred water behind the castle and the Forest Sage blessed him with life. After that, he became incredibly protective of the boy. He worked very closely with the King of Hyrule and the two of them had decided that Perseus and Zelda should be married in order to unite the kingdoms more closely. After the King died, he ends up not attending the funeral while his son goes in his stead. He's now doing shady business trading and his leadership loyalty is in question.
Face claim:
Thrandruil from Lord of the Rings (you can find tons of pictures of him on zerochan.net!)
Human





Rupees

: 912003

---

Posts

: 17


Join date

: 2015-02-22


Age

: 24

---


Character Sheet


Rank

:

Amateur




EXP

:


(0/5000)




Statistics

:


Percy, bud, We have a king
___________________________________________________
Human





Rupees

: 339614

---

Posts

: 201


Join date

: 2015-02-17

Character Sheet


Rank

:

Advanced




EXP

:


(350/15000)




Statistics

:


Currently the position for King of Labrynna is open
Human





Rupees

: 877020

---

Posts

: 265


Join date

: 2015-02-13


Age

: 22

---


Character Sheet


Rank

:

Advanced




EXP

:


(445/15000)




Statistics

:


---
Permissions in this forum:
You
cannot
reply to topics in this forum